Twickenham Area Guide
Nestled alongside Richmond in leafy South-West London, Twickenham is often mentioned as a short-hand for rugby, due to the famous rugby union stadium. Sporting prowess aside, there's plenty of other attractions to be found in this affluent suburb, ranging from wide open green spaces and good local schools to cosy, historic pubs. The area is far enough from the centre to offer a sense of peace and quiet, but close enough for a straightforward daily commute - particularly if you work near Waterloo. When it comes to property, there's everything from historic mansion blocks and modern apartments with river views to Victorian and Edwardian family homes on pretty, quiet streets. For those seeking something different, there's always Eel Pie island too - though you're unlikely to bump into The Rolling Stones these days!
Eating & Drinking
Restaurants
Alongside the occasional well-known high street restaurant such as Ask Italian and Loch Fyne, Twickenham is full of excellent independent restaurants, many of which have been in the area for years.
A Cena
A local institution, this simple, elegant restaurant is known for its authentic Northern Italian menu - think pan fried sea bass and cacio e pepe spaghetti.
Address: 418 Richmond Rd, Twickenham TW1 2EB
Tangawizi
Brad and Angelina were rumoured to have regularly ordered from this award-winning Indian restaurant while in London, so it's even got A-list approval!
Address: 406 Richmond Rd, Twickenham TW1 2EB
Masaniello
Another brilliant Italian eatery, this unassuming, affordable spot focuses on traditional dishes from the Neapolitan region.
Address: 22 Church St, Town Centre, Twickenham TW1 3NJ
Pincho
Gorge on delicious Mediterranean tapas such as jamon croquetas, lamb meatballs and marinated octopus in this pretty Spanish dining room, or on the spacious terrace if the sun's out.
Address: 55 Church St, Twickenham TW1 3NR
Ke Sushi
Forget high street sushi chains - Ke Sushi is beloved among local fans of Japanese food for its fresh fish, classic donmono dishes and relaxed ambience.
Address: 36 London Rd, Twickenham TW1 3RR
Bars
Although cocktail bars and late-night venues are somewhat limited, you'd be hard-pressed to find a better area than Twickenham if you're looking for a good selection of classic pubs.
The Shack 68
Live music, generous cocktails and Southern BBQ dishes are all on the menu at this popular bar and nightspot.
Address: 68 London Rd, Twickenham TW1 3QS
The Crown
With squishy leather sofas and an extensive wine list, it's not hard to see why locals often spend hours in this pretty Georgian pub.
Address: 174 Richmond Rd, Twickenham TW1 2NH
The Bloomsbury Pub
Popular with the rugby crowd for the live game screenings, this relaxed pub also has an open fire and a summer garden - ideal for any weather.
Address: Staines Rd, Twickenham TW2 5BB
The Sussex Arms
Known for its range of real ales and ciders as well as regular acoustic music nights, this traditional pub has been a local favourite for years.
Address: 15 Staines Rd, Twickenham TW2 5BG
M Bar & Grill Twickenham
Offering a curated wine list, plenty of cocktails and chic interiors, it's clear why this stylish bar and grill is always packed with residents on the weekends.
Address: 1 Brewery Lane, Twickenham TW1 1AA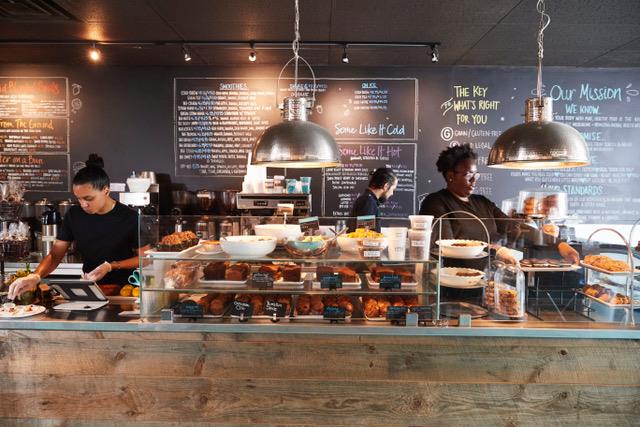 Transport
Twickenham is well-connected to central London on National Rail lines, with a direct journey from Twickenham Station to Waterloo taking just over thirty minutes. There's no underground station in Twickenham, although nearby Richmond Station is on the District line with a journey time of 20 minutes to Earls Court.
Shopping
Shopping in Twickenham is somewhat limited, although there are a few gems to be found if you know where to look. Rugby fans can stock up on all sorts of souvenirs at the England Rugby Store, while Moores Cycles is perfect for finding some two-wheeled transport to explore the neighbourhood with. If you're looking for an unusual present, Mojo has an epic range packed into a seemly tiny shop, and Corto Italian Deli keeps locals stocked with pesto, pasta and more. Meanwhile for a wider range, head just across the river to Richmond where you'll find House of Fraser, Waterstones, and women's fashion from the likes Topshop, H&M, and Whistles, as well as a selection of brilliant independent boutiques.
Green Spaces
One of the benefits of being further out of central London is the vast array of green spaces on offer, and Twickenham is no exception. From Twickenham Green and Radnor Gardens to the riverside expanse of Marble Hill Gardens, you'll never been far from a patch of nature here. Looking to really get lost in the wilderness? The 2,500 acre Richmond Park is beautifully rugged and is also home to hundreds of wild deer.
Education
Twickenham's family-friendly reputation is partly based on the good selection of schools, so you can expect a range of highly-recommended options here. For younger children, Orleans Primary School, St James RC Primary School and Bishop Perrin CofE Primary School are among those rated 'outstanding' by Ofsted, while for secondary options Orleans Park Comprehensive (mixed, academy) and Newline House School (mixed, private) are both popular choices.